Power BI Design Techniques
Power BI design settings for metrics, bar charts, maps, and other visuals.
Layout Techniques
Color Palette
Explore trending color palettes using Coolors
Pick a palette and copy/paste the color codes to the report/visuals
Align/Resize visuals
Select multiple visuals that need to be aligned
Go to Visualizations/Format visual/General/Properties
Update any of these settings: Size, Position, Padding
Whitespace hack for padding
I wish PBI visuals had a similar behavior as the Box Model in CSS with padding, border, and margin
Create a shape of the same background color as the visual

For example: Insert/Shapes/Rectangle
Resize the shape to the same size as the visual

Add 20px to the shape's height and width General/Properties/Size

Add rounded corners

Select the visual, then General/Effects
Set Background to On

Set same color as the shape's background

Set Visual Border to On

Set same color as the shape's background
Set Rounded corners to 15px

Add shadow

Set Shadow to On

Change the color to a ligher setting than the default
Set Position to Custom

Organize the layers so the shape is behind the visual

View/Selection/Layer order

Rename the layer with a proper name

Or use Format/Send backward (when selecting the visual)

Make sure the shape's color is the same as the visual's background
Turn shape's border to off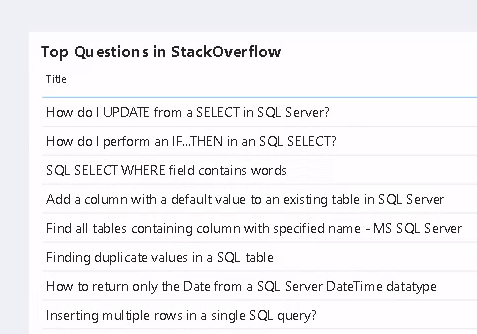 Format painter to copy/paste a format
Click on a visual
Under the Home menu tab
Click format painter
Use paintbrush mouse pointer to click on a similar visual
This will copy/paste the format to that visual
Gradient Blue Background
If you want to create a background with a gradient to have better contrast and a modern design, you can use an external image and use it as a background.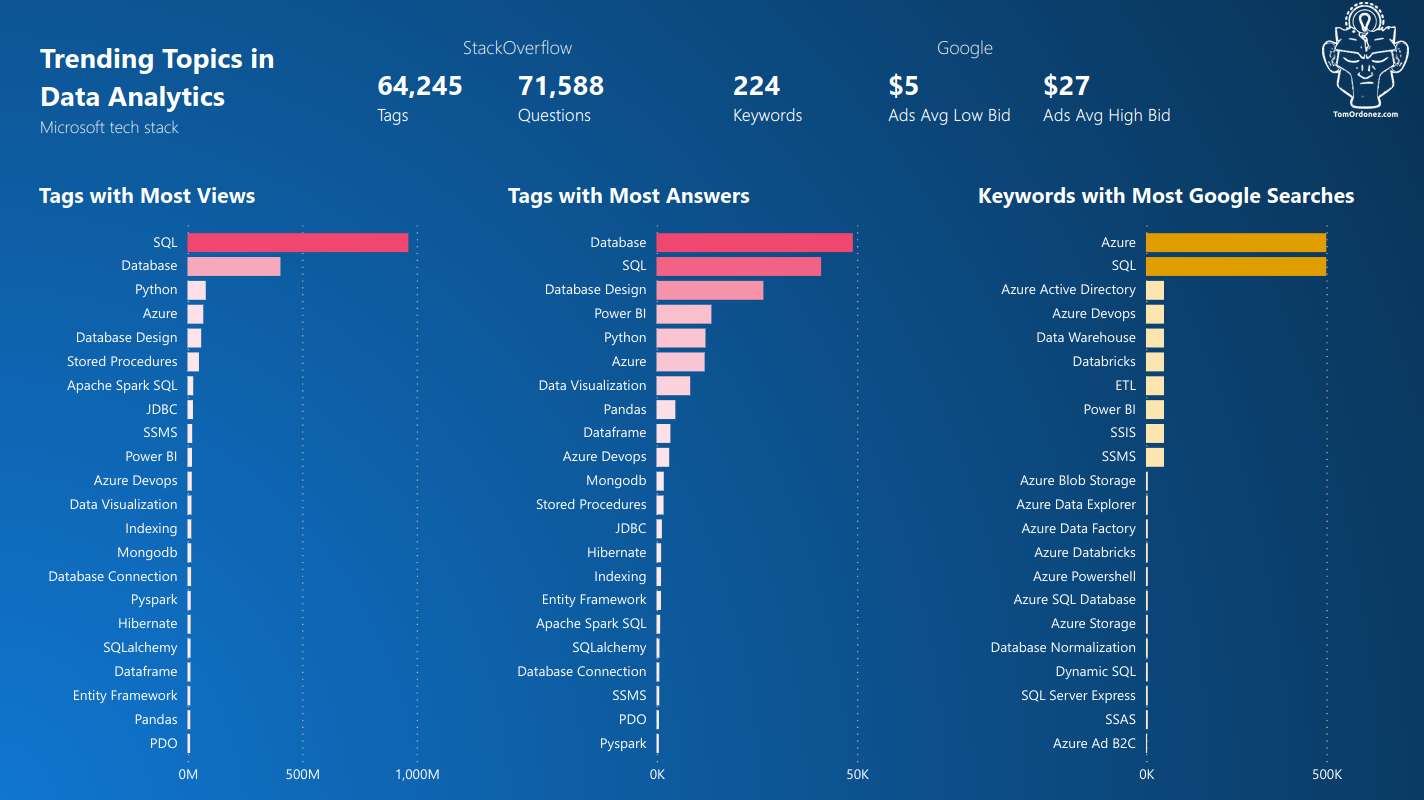 More about this report in Power BI with Azure and Data Analytics Trends
Power BI Canvas Settings
Review the canvas size
The default is type 16:9 (height: 720px, width: 1280px)
Google Drive
Create a Google Slide
Set the page setup to 16:9 or select Custom and enter the size in pixels
Change the background
Select color
Go to the Gradient tab
Add a custom color
Select any preferred settings
Download the slide as .svg
Power BI Canvas background
Without clicking any visual
Go to the menu Visualizations, then the tab Format page
Click Canvas background
Click on Image and upload the svg file

Set Image fit to Fit
Set Transparency to 0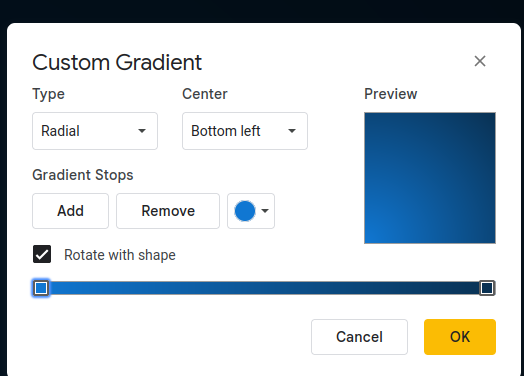 ---
Designs for Visuals
Report Text Box Title
Header: Segoe UI, 18px, Bold
Subheader/description: Segoe UI Light, 11px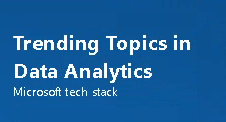 Multi-row Card
Header

Visualizations/General/Title
Heading: Heading 3
Font: Segoe UI Light, 12px

Values

Visualizations/Visual/Callout values
Font: Segoe UI, 18px, Bold

Labels

Visualizations/Visual/Category labels set to On
Font: Segoe UI Light, 11px, Bold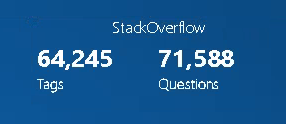 Stacked Bar Chart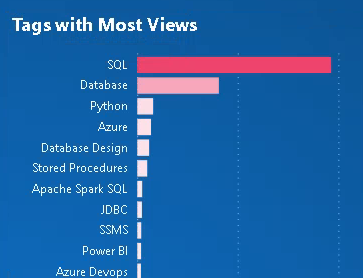 Header

Visualizations/Format visual/General/Title
Heading: Heading 3
Font: Segoe UI, 14px, Bold, Left alignment

Y-Axis, X-Axis

Visualizations/Format visual/Y-axis/Values
Font: Segoe UI, 9px
Max area width: 50%
Concatenate labels: ON

Gridlines

Style: Dotted
Color: Light grey #C8C6C4
Width: 1px

Bars/Colors

Conditional formatting
Format style: Gradient
What field based on: Sum of Views
Summarization: Sum
How to format empty values: As zero
Minimum: Lowest value
Maximum: Highest value

Bars/Spacing

Inner padding: 20px
Min category width: 20px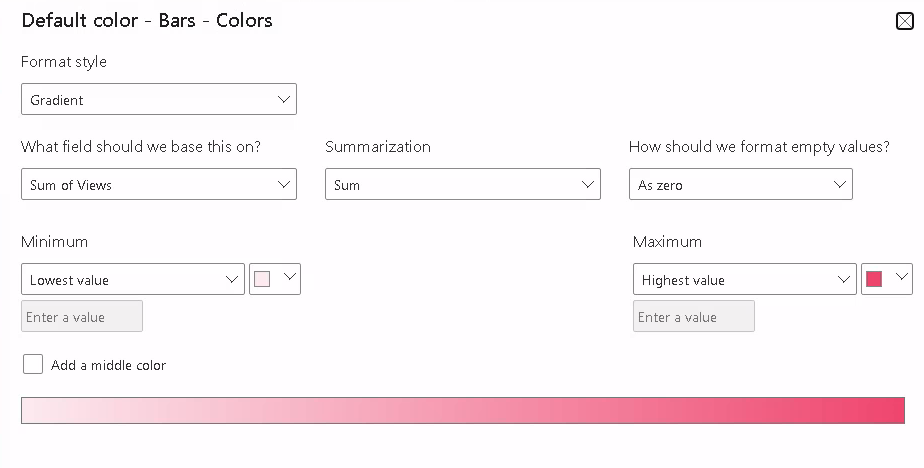 Make a slicer look like a website menu
Select the slicer
Format visual/Visual
Slicer settings

Options/Style set to Tile

Values
Border

Bottom
Set a color and line width like 10px

Background

Set the same color as the top bar

---
Organize the Layers
As you add visuals to the report, you can organize them in layers, and name the visuals with a naming convention.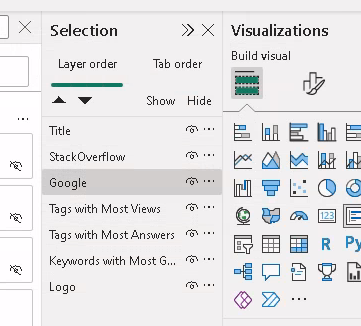 Go to View
Then Selection
A vertical menu opens with two tabs Layer order and Tab order
In Layer order, rename the visuals
Drag/drop the visuals on top of each other
Optionally, hide visuals

This show/hide can also be used when creating bookmarks
Create two visuals on the same canvas location
For example, sales by year and sales by month
Place the layers so they are exactly on top of each other on the canvas
When creating a bookmark hide one of the visuals and save it
Then swap show/hide for the other visual and create another bookmark
---
Visual Tab Order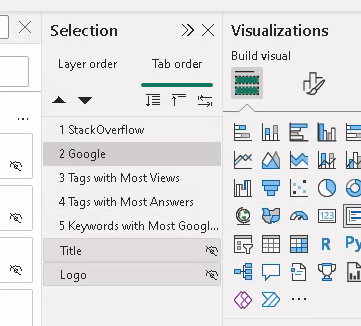 The adjacent tab says Tab order and it shows this message when you browse over: